Tekla Structural Designer 2020 SP3 Update | 157.2 mb
Trimble introduced the update (SP3) of its Tekla Structural Designer 2020 software, is software that gives engineers the power to analyze and design buildings efficiently and profitably. This release includes a number of enhancements and issue resolutions.
Release notes: Tekla Structural Designer 2020 SP3
A number of additional fixes which are not detailed explicitly here are also made to improve general performance and stability. An example of such an issue is listed directly below here:
[TSD-6927] - Databases
- Decking and Connectors - an exception would occur on closing the Materials dialog after adding user defined Decking and/ or Connector data for certain more recently added Countries, such as Finland. This issue is fixed in this release and such user defined data can now be added for the affected countries.
- Note that the fix requires that you upgrade your local Decking and Connector databases after installing this release.
[TSD-6916] - Ghost Unselected
- use of the powerful new Ghost Unselected toggle (at bottom right of the view) is extended to a number of additional operations in this release.
- As illustrated below, Ghost Unselected can now be used during the following operations; Copy, Move, Mirror and also Edit geometry - i.e. for example when graphically adjusting the node positions of a selected member, or of a slab panel or patch etc.
[TSD-7364] - Licensing
- in some circumstances, when a valid license could not be detected, it would not be possible to perform a manual save which could result in a loss of work. Now in this circumstance the user will be able to perform one manual save, removing the potential for lost work while re-establishing the license.
- Note that if you are using an LT license, as before, when the limits of the license are exceeded, saving of the model will not be allowed.
[TSD-6900] - Cores
- walls with a sloping top and/or bottom edge can no longer be selected for inclusion in cores, as they are beyond the scope of the current core forces calculations. While such walls could be added to cores in previous releases, this would cause a program error when trying to view core results.
- For existing models with this circumstance, the problem wall(s) will be removed from the core(s) when opened in this release. A message to this effect listing the removed wall(s) will be issued in the Process window as shown below.
[TSD-7037] - Delete - Slabs
- when selecting multiple slab items for deletion, due to a recent change in release 2020, the parent slab item would also be selected as default which could lead to the inadvertent deletion of all items of a slab. This is changed in this release so that only the selected slab items are populated in the list of entities to be deleted.
[TSD-6910] - Structural BIM Integration - Autodesk Revit
- the Tekla Structural Designer Integrator for Autodesk Revit© 2021 (version 7.0) was released on 1st July 2020 and is available in Tekla Downloads. If you are now using Autodesk Revit© 2021, you can install this to perform BIM integration with Tekla Structural Designer.
- All fixes and enhancements included in this release are also included in updates for the Integrators specific to the following currently supported Revit© versions; 2020 (Integrator version 6.01); 2019 (Integrator version 5.02); 2018 (Integrator version 4.03). For more information about this see the Tekla Structural Designer Integrator July 2020 updates Release Notes. If you are performing BIM integration with any of these Revit© versions, we recommend you update to the latest version of the associated Integrator.
[TSD-4790] - Snow Loading - US Head Code
- in some circumstances, for Step and Parapet type drift loads applied using the Snow Wizard > Local Drift Snow command, the automatically calculated drift load pd and drift extent w could be incorrect. The issue affected all years of the ASCE7 Snow Loading Action code available in Design Codes.
- The error would occur when the drift height was > the step/parapet height and had two effects:
. The maximum drift load pd was double-counted
. The drift width w would be incorrect and generally too low due to the use of the total parapet / step height for hc, rather than the clear height above balanced snow load.
. We note that the double-counting of pd would generally counteract the reduction in w, producing too much rather than too little total drift load.
- The engineer could work around the issue by enabling the "Override load value" option in the Drift Load properties and entering their own correct calculated values of drift load and extent. The issue is fixed in this release. Note that for existing files the drift values are automatically re-calculated and corrected when opened in this release.
- As shown in the picture below, as part of the fix the Drift Load properties are adjusted; the (user defined) Step/ Parapet height is now labelled "hstep"/"hpara" (formerly incorrectly labelled "hc") and the calculated value of hc is now reported beneath this.
[TSD-6697] - Swedish NA (EKS11)
- Eurocode based loading has been updated to reflect the changes brought by the latest version of the mandatory provisions and general recommendations on the application of European design standards for Sweden EKS 11. The new design in TSD replaces the design to the previous version, which can now be considered withdrawn from the program. The update affects both combinations from the Load Combination Generator and loads from the Wind Wizard:
- Load Combinations Generator - variable actions are no longer considered in combinations of actions based on equation 6.10a per EKS 11.
- Wind Wizard Loads:
. Wind peak velocity - calculation of this is changed to include the peak factor kp per EKS 11.
. The peak factor kp is now displayed in the Wind Data Report, appearing in the section titled 'Site Details' between the existing items 'Default Height for Internal Pressure, z_i' and 'Average height of roof tops of upwind buildings, h_ave'.
US Head Code[TSD-7092] - Concrete Design - Beams
- the calculation of the minimum beam depth hmin is corrected to follow the provisions of Table 9.5(a) of ACI 318-2008 and 2011 and Section 9.3.1 of ACI 318-2014. Previously, for all grades of reinforcement, the calculation incorrectly used a factor of fy / fy,mod . This is corrected in this release as follows:
- For fy = 60,000 psi; hmin = ht
- For fy other than 60,000 psi; hmin = ht *fy,mod
. Where fy,mod = (0.4 + fy / 100,000)
Reports:
[TSD-6906] - Concrete Design - Slabs
- a concise new report content item for Slab/Mat Design Summary is now available under Model report > Concrete > Slab/Mat Design/. As shown in the picture below, this replicates in the report the Review Data > Design Summary table for Slabs/Mats which was added in the previous 2020 SP2 release.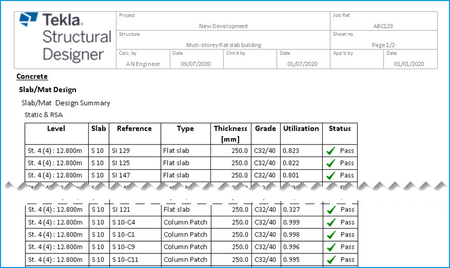 [TSD-7160] - Analysis Diagrams - 2D - when 2D contour diagrams - e.g. such as Mdx Top
- were included in reports, the title displayed under the diagram could be incorrect. The actual effect being displayed would however be correctly shown in the top left of the diagram. This is now corrected.
[TSD-3898] - Combinations
- the report tables of load combinations listing the constituent load cases and their factors now include the Equivalent Horizontal Forces (EHF) - also termed Notional Loads (NL) and Notional Horizontal Loads (NHL) in the US and BS codes respectively - case(s) and factors where appropriate, as shown in the picture below.

Drawings
[TSD-6945] - All Drawings - Units
- in some circumstances, DXF drawings produced by the program would appear to use Imperial units despite the model being set to Metric units. This is now corrected.
[TSD-7106] - Foundation Reactions
- the reactions for supports which referenced a frame, rather than the foundation level, would be incorrectly excluded from the drawing. This is now corrected.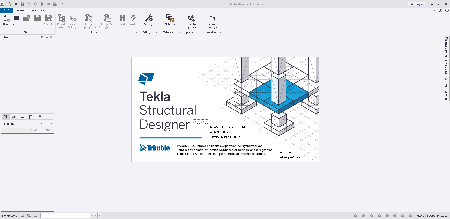 Tekla Structural Designer
delivers powerful features for optimizing concrete and steel design, including the ability to quickly compare alternative design schemes, efficiently manage changes and collaborate seamlessly. Regardless of project size or complexity, Tekla Structural Designer's fully automated, productivity-enhancing capabilities enable engineering firms to improve operations, successfully bid more projects and enhance client service.
Tekla Structural Designer 2020 structural analysis and design software introduces data-driven design with a new direct link between Tekla Structural Designer and algorithmic modeling plugin Grasshopper, enabling quick and easy exploration of different early-stage design alternatives.
In this video we'll look at patterning your imposed loadcase, the British Standard Figure this uses and how to manually edit the default patterns. Watch as we also look into the impact this can have, creating envelopes for the results, and designing for the worst pattern.
Tekla software solutions
for advanced BIM and structural engineering are produced by Trimble. Trimble's construction offering ranges from total stations to advanced software, giving the industry tools to transform planning, design, construction and operation of buildings. Tekla software is at the heart of the design and construction workflow, building on the free flow of information, constructible models and collaboration.
Product:
Tekla Structural Design
Version:
2020 SP3 (build 20.0.3.28)
Supported Architectures:
x64
Website Home Page :
www.tekla.com
Language:
english
System Requirements:
PC *
Supported Operating Systems:
*
Software Prerequisites:
Tekla Structural Design 2020 and above
Size:
157.2 mb
Tekla Structural Designer 2020 hardware recommendations.
System requirements for effective operation
CPU:
Multi core Intel i5 Series or above, Xeon or AMD equivalent
- Highest affordable performance recommended.
Memory:
16GB (32GB or more recommended)
- Memory requirements are highly dependent on model content.
OS:
64-bit Microsoft Windows 8.1 / 10
- Operating systems must be running the latest service packs / updates.
Graphics:
1600 x 900 resolution (1920 x 1080 or higher recommended)
- 1GB or higher of dedicated RAM.
- Utilizes HOOPS Visualize, a third party graphics engine available from Tech Soft 3D. To check your adapter's compatibility visit the HOOPS developer website for HOOPS 20.x, DirectX and OpenGL requirements.
Disk space:
1GB or more of free space for installation
- Operational disk space requirements are highly dependent on model content.
Internet connection: Required for access to Online Services and some documentation.
License Service:
- Tekla Structural License Service 3.00 including Sentinel RMS 9.5
License Server: The latest version of the Tekla Structural Licence Service, at time of release, is shipped and installed with the software. If you have chosen to have a separate licence server, it is always our recommendation that you also run the latest version of the Tekla Structural License Service on it to ensure compatibility. Please see System Requirements for specific version details.
Test environments
The application is tested and supported on the following business versions of Microsoft Windows with the latest updates applied:
- Windows 10 64-bit
- Windows 8.1 64-bit

Buy Premium From My Links To Get Resumable Support,Max Speed & Support Me
https://uploadgig.com/file/download/d82c538dF97ccaF8/6jiaw.Tekla.Structural.Designer.2020.SP3.Update.rar
https://rapidgator.net/file/dfa6f76874b7787b046a5b5ef412ab81/6jiaw.Tekla.Structural.Designer.2020.SP3.Update.rar
http://nitroflare.com/view/06D18440CB0AF8E/6jiaw.Tekla.Structural.Designer.2020.SP3.Update.rar
Views: 147
Comments (0)

free Tekla Structural Designer 2020 SP3 Update, Downloads Tekla Structural Designer 2020 SP3 Update, RapidShare Tekla Structural Designer 2020 SP3 Update, Megaupload Tekla Structural Designer 2020 SP3 Update, Mediafire Tekla Structural Designer 2020 SP3 Update, DepositFiles Tekla Structural Designer 2020 SP3 Update, HotFile Tekla Structural Designer 2020 SP3 Update, Uploading Tekla Structural Designer 2020 SP3 Update, Easy-Share Tekla Structural Designer 2020 SP3 Update, FileFactory Tekla Structural Designer 2020 SP3 Update, Vip-File Tekla Structural Designer 2020 SP3 Update, Shared Tekla Structural Designer 2020 SP3 Update,

Related Downloads :